As an aid to helping me nod off, I have decided to log into my website account and 'scribble' the ramblings of my mind.
The day started at 5am. On went the kettle while I dug out a two day old, half-a Spotted Dick from the fridge, along with the Ambrosia custard carton. After waiting 2 minutes for said 'breakfast' to be suitably zapped by magical micro-waves, I poured on the sweet tasting custard and devoured the pudding, only pausing to make coffee.
That was me set up for the next 48 hours of "diesel dapping"! (A term familiar to couriers who, basically, live in their vans, waiting for the next job to come in before moving on. A kind of industrial gypsy, but with less lucky heather and not necessarily Irish in anyway.)
My aim was to be in Sheffield by 8am, having departed from my home near Tewkesbury at 5:30am.
Today, I had a trailer attached to the van; a big, 12' box trailer. This was to accommodate a ride-on mower which I would later collect from Lincolnshire.
Once in Sheffield, I quickly realised that it is not the most ideal setting for a 7 metre van to be pulling a 5 metre trailer. Most the streets were lined with cars parked outside their respective and/or unrespective houses, where no thought had been given to the creating of driveways for said homes at the time of construction.
So some unhitching and man-handling was in order for the first collection, as the loading area "ain't big enough for the two of us".
The customer was a pleasant chap – a builder/landscaper, who had with him a couple of other chaps for assisting with the loading.
First on the van, I commanded!, was an old, pub-style pool table. Once that was loaded, other items of no particular stand-outishness were stacked in and around.
The goods collected here were to be taken all the way to the south of Italy. San Vito Dei Normannie in Puglia, to be precise.
The assortment of goods took up almost exactly half the van, a mere 6 cubic metres. All pushed to the front, enough room had been allowed for collection of more goods. And so, the reunion of trailer and van was concluded with a click, snap, wind and clunk before the next leg of today's trip was commenced.
Onward to Lincolnshire. This is where the ride-on mower was to be loaded; and a fine job the proprietor of "Green Stripe" gardening equipment made of it! No sooner had i lowered the back door-come-ramp down, the mower was reversed in and clamped down with minimal fuss. After a brief chat about how business is, we parted company with a handshake and goodbye.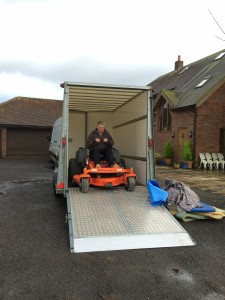 Onwards to Spalding. Ah, the flat and veggie filled landscape of rural Lincolnshire! Field after field of green brassica! Also, a land almost totally void of any Vodafone data signal, making the tracking of my movements sporadic, at best, for those i like to believe are interested enough in seeing a dot go from point to point on a computer-screen-based map!
My next stop was at a Hotel in Spalding. Not for a sleep though. No, not even for a meal. This was the next collection point for a customer who also had goods needing transportation to Puglia, Italy.
David was a pleasant hotelier with a round face and a mild manner. He was a dead ringer for Andrew Lloyd Webber, only much taller and with a bit less hair.
He had a crated fireplace, two bags of linen/laundry and a Karcher pressure washer to go. So, on it went and after a glass of water consumed, I bid him farewell and drove on to my next stop, which happened to be Macdonalds!
Once I'd filled my belly with a 20x chicken nuggets sharebox in bbq sauce, I paid nature a call and promptly jumped into the van again, this time to find a suitable parking area which could accommodate a 12 metre vehicle; a lay-by that might host a decent enough 3G data signal in order for me to write and post this blog. (And of course, to grab some sleep!)
Tomorrow, onwards to London with a radio that will be broadcasting less ongoing Muslim extremist massacres than today, I hope…